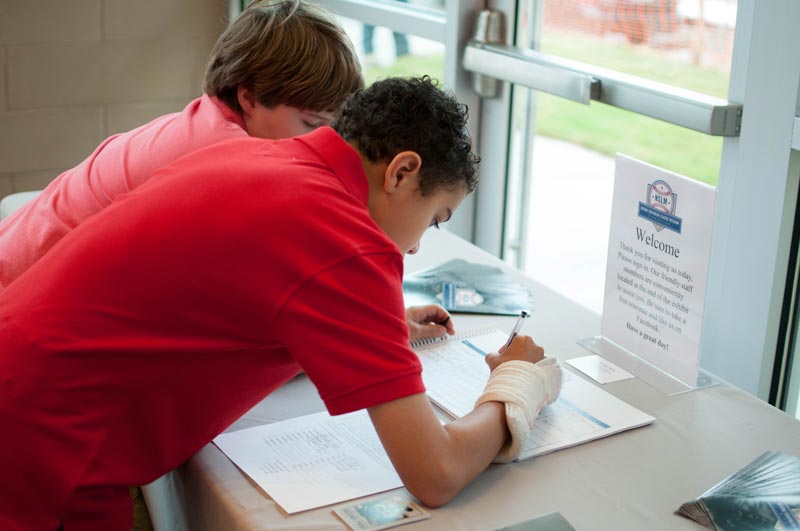 In This Section
Visitor Tips
To help make sure you get the most out of your Museum experience, we have a few helpful tips to guide you during your visit.
Admission
You, your friends and family members can enjoy the Negro Southern League Museum for free! Help ensure this one-of-a-kind facility is around for generations to come. Please consider making a donation today. Remember all donations are 100% tax deductible.
Food and Beverages
To preserve the historical importance of the cultural artifacts displayed at the Negro Southern League Museum, unfortunately food, chewing gum, or drinks are not allowed.
Photography and Video
Take out your selfie sticks, cellular phones, and say cheese! Flash photography is encouraged at the Negro Southern League Museum. Be sure to upload your photographs and share it via Facebook, Twitter and Instagram! Remember to tag @NSLMBham and share your experience with others. Unfortunately, amateur video is not allowed.
Lost and Found
If you have lost something in the Museum, please call 205-581-3040 and ask one of our friendly staff members to check the Museum's lost and found.
While at the Museum No Visitor Shall
Smoke on the premises
Display or carry placards, signs, or banners
Destroy, damage or remove property
Use loud, abusive or otherwise improper language
Loiter, sleep or participate in unwarranted assemblies
Engage in disorderly conduct
Use, possess or sell illegal drugs
Solicit for commercial or charitable purposes or distribute advertisements, pamphlets, handbills, and flyers
Bring dogs or other animals, other than service animals
Visitation policies at the Negro Southern League Museum are designed to protect visitors and staff as well as secure and preserve the artifacts entrusted to the Negro Southern League Museum's care.  Please be courteous and refrain from carrying firearms or other weapons while visiting the museum.