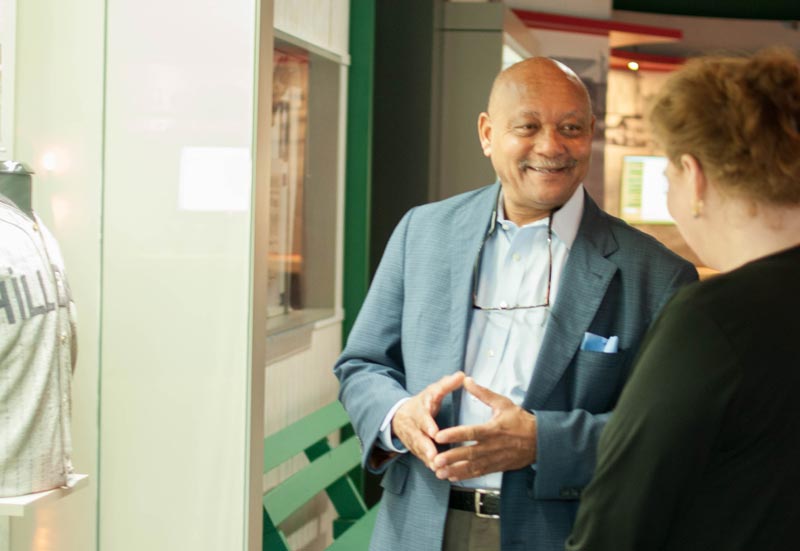 In This Section
The Board
Early in the twentieth century baseball was coined "America's Pastime".  A nation still struggling with the aftermath of the Civil War and the transition from an agricultural society to the Industrial Revolution needed a national pastime, a board based social relief for ordinary Americans coping in the work place.  Baseball provided that necessary outlet for Americans of all walks of life. Baseball meant even more to the African American community who had fewer institutions to rely on outside of the black church. The black church, the National Negro Leagues and the Industrial League teams of Birmingham were the center of black life; this was particularly so in Birmingham founded in 1871, just six years after the end of the Civil War. During the Civil War there was a Huntsville, a Mobile, a Selma, a Talladega, a Montgomery and a Tuscumbia, but there was no Birmingham.  Birmingham was founded because of the abundance of natural resources; red iron ore, lime and coal; all of the minerals needed to produce steel and iron ore.  Birmingham the "Magic City" taking its energy and its rapid growth from the local coal mines and steel production.
To provide entertainment value for its workers in the steel mills and coal mines, the steel companies and mine owners established the Industrial League baseball teams throughout Metropolitan Birmingham.  On Saturday and after church on Sunday, the local fans flocked to the games by the thousands to enjoy and to fellowship.  From the local Industrial teams, The Birmingham Black Barons and other Negro League teams throughout the nation emerged and created a forum for great black ball players such as Satchel Paige, Cool Papa Bell and Josh Gibson, Ray Dandridge and other great Negro League stars from 1927 to 1947. While these players were prohibited from playing in the major leagues, they did indeed set the stage for Jackie Robinson who signed a major league contract in 1947, integrating major league baseball. After Robinson, other Negro League players became stars in the major leagues: Willie Mayes, Ernie Banks, Roy Campanella, Henry Aaron, Birmingham local Sam Hairston and other great stars.
Today, the Negro Southern League Museum offers another opportunity to educate and to familiarize the nation, the state of Alabama, and the citizen of Birmingham on the contributions that the Negro Leagues and Industrial Leagues contributed to "America's Pastime". The museum seeks out the presence of you to come and witness an important part of American history. Please come to visit.
~ Melvin Humes
Mr. Melvin Humes, President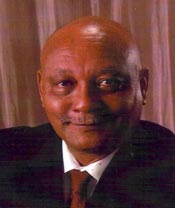 Melvin Humes is a 33 year State Farm Agent with office located in downtown Birmingham.  He was born in the New Castle mining town, just 12 miles from downtown Birmingham on August 29, 1946. Early in his life, he played baseball with Hooper City High School, a perennial championship team and later played baseball and football at Miles College in Birmingham, AL.  At age fifteen, he had already start playing in the Industrial League with and against older men.  At age sixteen Humes played one game in the Negro League at Rickwood Field with the New York Hobos vs. The Philadelphia Stars, he was paid four dollars as a participate. The game came to the attention of his high school coach who demised him from the team for violating Alabama High School Athletic Rules; after the fear of detection subsided he was able to rejoin the team after three games. Humes played and managed with six different Industrial League teams of Birmingham for a period of twenty five years. Many of these teams won divisional championships; with Humes usually batting third in the lineup or fourth as the cleanup hitter.
After high school in 1964 he went to work in the summer tobacco fields of Windsor, CT to save money for college.  The fall of 1964 he entered Miles College; unable to secure financing for the next semester, he volunteered for the US Army with the idea of saving money to return to college.  Little did he know that the Vietnam War was just months away.  After completion of basic training, advance training and paratroop school, he was assigned to the fame US Air Calvary Division, stationed at Fort Benning, GA.  Six weeks later, the unit was shipped from the Port of Savannah, GA to Vietnam arriving in September 1965.  Thirty days later, he and other members of the First Calvary division would be thrust into the largest battle of the Vietnam War, the "Battle of the Ia Drang Valley".  The battle was the basis of the bestselling book, "We Were Soldiers Once and Young" by Lt. General Harold Moore and syndicated Columnist Joseph L. Galloway.  In 2001 the book was made into the movie, "We Were Soldiers", starring Mel Gibson. Humes was on the lead helicopter and the first American to set foot on the battle field.
In 1967, President London B. Johnson awarded the First Calvary and its soldiers, The Presidential Unit Citation for Extraordinary Heroism against an armed enemy. Upon return from Vietnam he was assigned to the fame 82nd Air Borne Division in North Carolina.  In that same year, President Johnson dispatched the unit to the city of Detroit to quell the largest riot in American history.
By the time Humes reached age nineteen he had been involved in three of the most historic events in world history: A child marcher at the Sixteenth Street Baptist Church with Dr. Martin Luther King, Infantry Paratrooper in the "Battle of the Ia Drang Valley" and the 1967 Detriot riot. These events are chronicled in the book, "Concise Chronology of World History-3000 B.C. – 1993", by David Rubel.
In 1971 Mr. Humes completed Miles College and was hired as a claims adjuster with Liberty Mutual Insurance Company of Boston and later worked with Continental Insurance Company of New York.  While working as an adjuster he earned his real estate license and attended law school at Miles College School of Law. He graduated in 1981 and was admitted to the bar in that same year; he practiced law in the area of personal injury. Humes was appointed as the First African American State Farm Agent in Birmingham, AL and still serves in that capacity.
Humes has served on numerous boards in Birmingham: Leadership Birmingham, served eight years as President of Miles College Sports Hall of Fame, Board of Directors United Way, Chairman of the Board for Vietnam Veterans Association of Birmingham, Girls Inc., selected by the UNCF to do nationwide TV promotion as a UNCF graduate, Campaign committee for the Fourth Ave YMCA, Board of Directors for Birmingham Business Resource Center and Board of Trustee for Sardis Baptist Church.
Presently, Humes serves as the Board President of the Negro Southern League Museum and Chairman of the Birmingham Industrial League.
Education & Training:
Degree in Radio TV broadcasting, Career Academy School of Broadcasting, Atlanta, GA 1968
Adjuster Training, Liberty Mutual Center, Boston, MA 1974
Certificate in Real Estate, Jefferson State Community College, Birmingham, AL 1975
Juris Doctorate Degree, Miles College School of Law, Birmingham, AL 1981
Military Services & Awards:
Member of the elite 82nd Airborne Division
Member of the First Air Calvary Airmobile
Served one year tour in Vietnam as Sargent, Infantry Paratrooper
Served two and a half years in Continental US as Infantry Squad Leader
Bronze Star
Purple Heart
Combat Infantry Metal
Presidential Unit Citation
Vietnamese Cross Gallantry
Air Metal
Parachutist Badge
Mr. Ron "Papa Jack" Jackson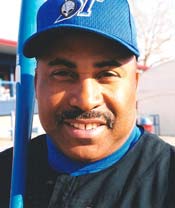 Ron "Papa Jack" Jackson is a coach and a former player in Major League Baseball. He was the hitting coach for the Boston Red Sox in 2004 when they won their first World Series in 86 seasons.
From 1975 through 1984, Jackson played first base and third base with the California Angels (1975–78, 1982–84), Minnesota Twins (1979–81),Detroit Tigers (1981) and Baltimore Orioles (1984). He batted and threw right-handed.
Jackson was called up to the Angels after hitting .281 in 144 games for the Salt Lake City Gulls of the Pacific Coast League, and made his major league debut on September 12, 1975.
In a 10-year career, Jackson compiled a .259 batting average with 56 home runs and 342 RBI in 926 games.
Jackson played for managers Gene Mauch, Sparky Anderson, Dick Wiliams, and Jim Fregosi. With the Angels, he hit a career-high .297 in 1978, and in 1979 posted personal highs in hits (158), doubles (40), home runs (14), RBI (68), runs (85) and games (153) for Minnesota. In that season, his .9943 fielding percentage at first base broke Rod Carew's Twins' record.
Following his retirement as a player, Jackson coached for the Brewers, Dodgers and White Sox systems. The 2006 season marked his 18th year as a major league or minor league hitting coach, and his fourth with the Boston Red Sox. In his first two seasons with Boston, the Red Sox led the majors in runs, batting average, doubles, extra-base hits, total bases, on-base percentage and slugging average. In 2003 the Sox set ML records for extra-base hits, total bases and slugging, finishing one off the major league lead with 238 home runs. The Red Sox tied an ML record with 373 doubles in 2004.
Jackson served as the hitting coach for the Round Rock Express, then the top affiliate of the Houston Astros from 2007-2009.
He currently serves as a guest instructor at the New York Baseball Academy and coached Birmingham's Willie Mays Youth Baseball team to the 2014 championship of the Junior RBI Classic in Minneapolis.

Dr. Tommie L. Lewis
Alabama native, husband, son, father, friend, soldier, activist, leader, diplomat, ecclesiastical brethren, teacher, shepherd, servant and prisoner of the Lord, are but a few titles that can be bestowed upon him. Dr. Tommie L. Lewis is married to Sister Rhonda Steele Lewis. Bethel Church has been blessed for the past thirty-one years as her shepherd, and the body of Christ has been blessed by his work as a gospel preacher for forty years.
The Spirit of the Lord was upon Dr. Lewis when he heard the clarion call and felt the anointing of the Holy Spirit to preach good tidings of great joy unto all people. In obedience to the divine summoning, he responded to that the call with "Here am I, Lord send me"! Realizing that it was imperative to preach the word in season and out of season, he was licensed and ordained to preach the Good News of Jesus Christ on January 6, 1973, at the Shady Grove Missionary Baptist Church by Rev. G.W. Sloan.
In order to rightly divide the Word of Truth and desiring to walk worthy of the vocation to which he was called, Dr. Lewis began to study to show himself approved and matriculated at the Birmingham Easonian Baptist Bible College, and the Universal Bible Institute in Brunswick, Georgia, earning a BA, BTH and Master of Divinity degrees respectively. Similarly, Universal Bible College and the Birmingham Easonian Baptist Bible College have conferred upon him Honorary Doctorate degrees. Because Dr. Lewis emphatically believes in the mandate of
Christ to go ye therefore, he has traveled and preached the Gospel throughout the United States, South America, Europe, Africa and Asia.
Adhering to the challenge, and putting his hand to the plow, Dr. Lewis readily accepted his first pastoral assignment at the First Baptist Church-Carver, in Bessemer, Alabama in 1973. Dr. Lewis was further led to the Antioch Baptist Church in Gadsden, Alabama and served faithfully. In 1982, he was commissioned by God to serve as pastor of Bethel where he has served with diligence, dedication, and determination. Under his leadership, Bethel has experienced phenomenal growth numerically with a membership of over five thousand members. Bethel has grown spiritually as well. During his tenure, Bethel embarked upon and completed a 21st century Worship Center in 1990, which includes a sanctuary with a seating capacity of eighteen hundred, an office plaza, conference room, library, new-members lab, large multi-purpose room, a nursery and classrooms. In 1998 a Family-Life Center was erected. This facility includes a first class day care center, surveillance room, game rooms, a commercial kitchen, fellowship/dining hall, a wedding chapel, regulation sized gym with bleachers, a walking track, computer lab, two meeting rooms, several classrooms and the Bethel Community Learning Center, which has generated millions of dollars in state and federal funds. The Bethel campus continues to serve as a ray of light and a beacon of hope in the re-creation of lives and the restoration of families.
Community minded and endowed with the gift of exhortation, Dr. Lewis has affiliated himself with numerous religious and civic organizations including the President of the Pratt City Ministerial Alliance, Birmingham Metropolitan Baptist Ministerial Conference, Southern Christian Leadership Conference. Dr. Lewis is involved in numerous affairs vital to the progress of the city. He served as Captain for the Bessemer Police and Fire Department Chaplaincy Corps. He presently serves as Chairman of the Board of Directors for Jefferson County Commission of Economic Opportunity (JCCEO) and has also served as Chairman of the Board of Directors for the Jefferson County Transit Authority. He serves as State President for the National Rainbow Push Coalition, where Bethel church ranks number two in the 1000 Churches connection. Dr. Lewis serves as State Spiritual Advisor for the Matrons Division of the Alabama Baptist State Convention, he also serves as Superintendent of Missions for the Alabama Baptist State Convention. Dr, Lewis is an active member of the Ministers on Wall Street Project, American Ministers Association. Numerous awards and accolades have been bestowed upon him. He is also the 1998 Inductee into the City of Birmingham Gallery of Distinguished Citizens. A bust of him is displayed on the second floor in Birmingham City Hall commemorating this achievement.
Dr. Lewis was elected Moderator of the Peace Baptist District on October 18, 2001. He has channeled change in the District and has been successful in bringing district churches together annually for its Peacemakers Partners Conference.
For forty years, Dr. Lewis has abided in the same calling in which he was called, preaching the Word with passion, power and persuasion. Dr. Lewis has risen to the task, reached out and redeemed the lost for Christ. His guiding principles are to evangelize the sinner, equip the saints and exalt the Savior. Indeed, Dr. Lewis has been sent by God and the evidence is the fruit that has been harvested from his labor. Yes, it is written, and we stand as a witness today, "How beautiful are the feet of them that preach the gospel of peace, and bring glad tidings of good things."