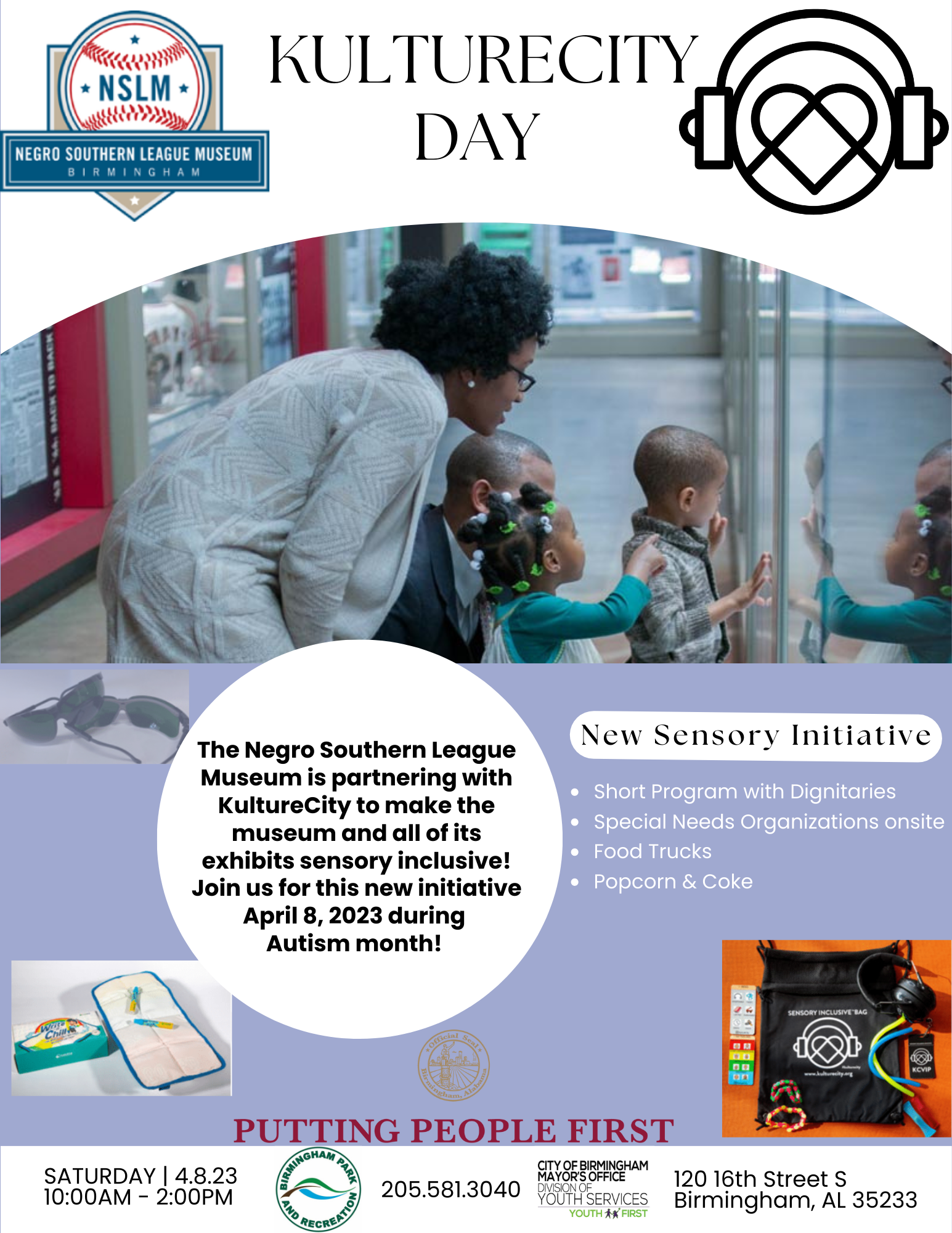 In This Section
Sensory-Inclusive Certified Venue

FOR GUESTS WHO HAVE SENSORY PROCESSING NEEDS
The Negro Southern League Museum (NSLM) has partnered with KultureCity to improve our ability to assist and accommodate guests with sensory needs. Our objective is to provide an inclusive and seamless experience for all guests for all events including those with sensory needs. We strive to raise awareness of the needs and challenges faced by individuals with sensory-processing disorders by supplying our Team Members with continuous training, and by offering the resources and accommodations below to our guests.
SENSORY BAGS
Sensory bags containing special KCVIP badges, fidget tools, noise-canceling headphones, and other resources are available for checkout (at no cost by leaving an ID) in two locations: the kiosk near the museum's main entrance, and the museum's receptionist's desk.
Prior to use, please be sure to thoroughly read the Sensory Bag Waiver.
WEIGHTED LAP PADS
Weighted lap pads are also available upon request (at no cost by leaving an ID) and are also located at either the kiosk near the museum's main entrance, or in the museum's administrative offices at the rear of the facility.
SOCIAL STORY AND KULTURECITY ALL-INCLUSIVE APP
Download the KultureCity All-Inclusive App via the App Store or Google Play to get your social story to help you further with your visit to the Negro Southern League Museum.
QUICK TIPS
For a better experience at the NSLM, or if you find yourself in need of immediate assistance onsite, please see the below when planning your visit:
Locate signage for designated Headphone Zones (loud areas) upon arriving. These are typically the lobby and the main gallery "outfield" areas.
Connect with NSLM staff members upon arriving, who will be wearing a shirt with the NSLM logo.
Locate signage for the designated quiet zone, which is at the rear of the museum near the administrative offices.
Plan ahead for meals or resting as needed. The nearest restaurant is The Fennec (closed Mondays and Tuesdays; open Wednesday-Thursday, 11:00 a.m. – 12:00 a.m., Saturdays, 11:00 a.m. – 2:00 a.m., Sundays, 11:00 a.m. – 4:00 p.m.)
We look forward to welcoming you to a positive experience that supports the sensory needs of our visitors!