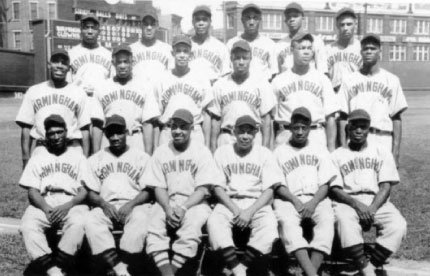 The Birmingham Black Barons
The Birmingham Black Barons were organized in 1920 as the Birmingham Stars, one of the first eight teams of the Negro Southern League. That same year, Rube Foster organized the Negro National League. Frank Perdue paid $200 for the rights to be the first owner of the new team. The Stars nickname was quickly discarded, and the team became the known as the Black Barons – a reference to the name of the white team in the city. In 1923, the Black Barons became associate members of the Negro National League under new owner Joe Rush. They became full members of the league in 1925.
Several members of the Black Barons during the 1920s had careers that led to their induction into the National Baseball Hall of Fame. Those were pitcher Bill Foster, the legendary Leroy "Satchel" Paige, and George "Mules" Suttles. Paige is considered by many to be the best pitcher in baseball history. Suttles hit 127 known home runs in Negro League competition, a number that may make him the League's all-time home run king.
Financial pressures from the Great Depression caused the Black Barons to drop back to the Negro Southern League in 1931. The team was able to get back to the big-time Negro League in the 1940s under co-owners Tom Hayes and Abe Saperstein. Saperstein also owned the Harlem Globetrotters basketball team, and some Black Barons earned extra money by playing basketball during the off-season. These included Reese "Goose" Tatum, who became known as the "Clown Prince of Basketball."
The Black Barons won the Negro American League pennant in 1943, 1944, and 1948, but lost the Negro League World Series both season. Their most famous player during these years was a youngster named Willie Mays who would become a household name and Hall of Fame player with the New York Giants.
The success of baseball's integration led to the gradual decline of the Birmingham Black Barons. Over the next few years, their crowds grew increasingly smaller. Their most famous player during this era was Charley Pride, a talented player who became better known as a country music singer. One of their managers during this period, Willie Wells, is a member of the Baseball Hall of Fame.
By the early 1960s, they were essentially a barnstorming team. While details are sketchy, the 1962 season appears to be their last year as a team in Birmingham. Regardless, their baseball legacy continues.