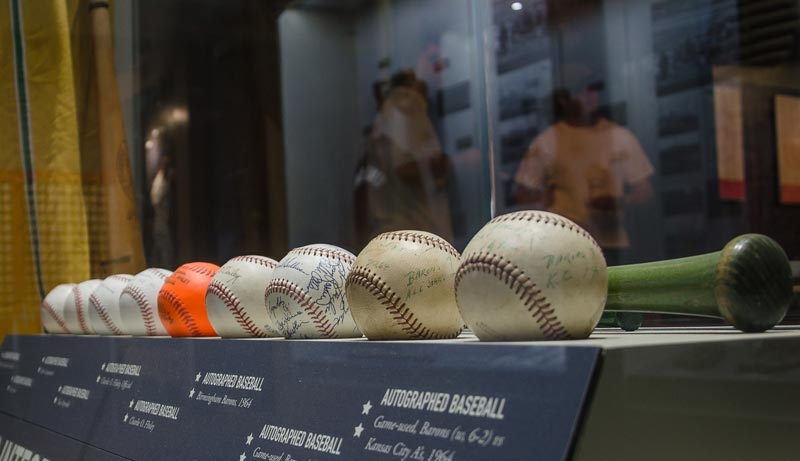 Natasha L Rogers
Ms. Natasha L. Rogers is the director of the Negro Southern League Museum (NSLM).
She is a native of Selma, Alabama, however she was reared right here in the Magic City. Natasha earned a Bachelor of Arts degree in Mass Communications from Miles College in 2001, and a Master of Arts in Communication Management from the University of Alabama at Birmingham in April of 2015, where she was inducted into the Honor Society of Phi Kappa Phi.
Ms. Rogers began her professional career in the field of broadcast journalism. After completing her undergraduate degree, Ms. Rogers received two prestigious internships from network powerhouses CNN and NBC. Natasha interned for CNN Newssource Sales in Atlanta, Georgia, and participated in the prestigious NBC Page Program in New York, New York where she worked with Dateline NBC, and Weekend Today. After her stint in the Big Apple, Natasha returned home and began working for the local NBC affiliate WVTM. She later moved to Monroe, Louisiana where she worked as a general assignment reporter for the local CBS affiliate KNOE.
After working in broadcast journalism for nearly 10 years, Natasha transitioned into the field of public relations. She served as the assistant director of media relations for Miles College. While at Miles, Natasha secured national media coverage for the college on major networks such as ABC and BET. She also played a vital role in the planning, implementation, and execution of major college fundraisers and special events such as the Labor Day Golden Classic, and the President's Scholarship Ball, which raised over $300,000 for institutional scholarships.
Natasha's next move positioned her directly in the city's center, literally. She joined Railroad Park Foundation on its opening day in September 2010. Her talents helped Railroad Park become one of the best parks in the nation. Natasha served as special events coordinator and created successful and sustaining programs such as Get Healthy on the Railroad, a seven-month exercise program that provides free weekly exercise classes. Get Healthy on the Railroad serves well over 7,000 people per year.
Natasha is excited and humbled to serve as director of the Negro Southern League Museum. She is looking forward to adding to the local baseball experience and making the Negro Southern League Museum one of the best sports museums in the country.
Ms. Rogers is a member of The Women's Network, Alpha Kappa Alpha Sorority, Incorporated, and Public Relations Society of America, where she has held multiple leadership positions. In 2011, Ms. Rogers completed Leadership UAB and was recognized as an outstanding young professional in the inaugural edition of Who's Who in Black Alabama. In 2012, Natasha was selected by the Girl Scouts of North Central Alabama to serve as a role model for its annual fundraiser, the Soiree at Soho. In April 2016, Natasha received the Wonderful Outstanding Woman (WOW) Award by the Metro Birmingham Branch of the National Association for the Advancement Colored People (NAACP). She is also a member of the 2016-2017 Leadership Birmingham class.
In Natasha's spare time she enjoys watching movies and Jazzercise.